In the last week of 2021 I purchased the above Rhodes electric piano (or EP for short), a 1975 Rhodes Mk. I Stage Eighty Eight from Tim Warneck and his team at Retrolinear in North Wales, PA. According to Tim, this particular instrument was produced at a strange time: right at the point in which the Fender brand name was being dropped. However, the production line was still building the exact same instrument, the same way, from the same parts, by the same people.
Here's a great clip of the talented Jared Alston demoing my instrument before I picked it up:
Who Popularized the Rhodes?
Anyone who knows where I derive musical inspiration from understands my deep affection for Stevie Wonder's Song's in the Key of Life (1976). It's one of those rare albums that is in it's entirety a piece of art from start to finish. The Rhodes electric piano can be most prominently heard on As:
Another of my favorite start-to-finish albums is Steely Dan's Aja (1977), where the Rhodes (played by Victor Feldman) can be heard on almost every track. It's featured most prominently on Deacon Blues, Black Cow and Josie:
In a more modern example, here's pianist Woody Goss of Vulfpeck playing Smile Meditation on a lidless Rhodes piano which remains in frame throughout the entire video. You can actually see all of the tines inside as they're played, which is a pretty cool way to understand how the hammer mechanism of the Rhodes mimics that of an acoustic piano:
Another sublime use of the Rhodes can be heard on the alternate take of Tide by bossa nova legend Antonio Carlos Jobim:
If it isn't clear by now, the Rhodes electric piano is a staple across many musical genres, most notably jazz and rock. Most recently it was featured in Peter Jackson's Beatles documentary Get Back, where we can observe the late Billy Preston entering the studio and changing rock history forever on the Rhodes tracks for Get Back and Don't Let Me Down. The solo at 1 minute 8 seconds was the proverbial straw that broke the camel's back and inspired me to finally buy one of my own:
History
The Rhodes electric piano was first introduced in the late 1950s as a portable alternative to the heavy and bulky acoustic pianos of the time, and quickly gained popularity among musicians for its unique sound and portability. It was the first model in a line of electric pianos designed and manufactured by Harold Rhodes and later acquired by Fender Musical Instruments Corporation. It uses a unique tine-based method of producing sound, resulting in a warm and distinctive tone.
Featuring individual tone bars for each key, the Stage model was built with a sleek and compact design, making it heavy, but portable. The piano's sound is created by striking the tone bars with hammers, which are then amplified via a pickup system not unlike that of a guitar, with one pickup for each tone bar.
The closest competitor to the Rhodes is the Wurlitzer 200, which I once owned, but later sold in favor of the sound of the Rhodes.
How to get the Rhodes sound
Despite being introduced over 40 years ago, the Rhodes electric piano remains a popular instrument among musicians today. Many emulations (and simulations) exist. If you want to try the Rhodes sound without breaking the bank (or pulling a muscle in your back carrying one) I recommend the following software:
I tried the demo of this software recently, and it surprised me. It's modeling software, meaning it doesn't use recorded samples. Traditionally this hasn't resulted in as authentic of a sound as sampled instruments. Pianoteq 8 (specifically the newest version) changes this. It offers a variety of acoustic and electric pianos, and they all sound great and offer virtually limitless tweakability.
I cannot wait for the iPad release of this software. I don't actually own it, I've only played with the demo. The biggest issue for me is price: One thing I am not a fan of with any software is tiered pricing models, and Pianoteq falls under this model. If I'm going to buy software, I want complete functionality. Though this is incredible modeling software, I am hoping Modartt's iPad release has a price on par with other mobile apps, otherwise I will likely skip it and stick with Neo-Soul Keys Studio 2 on iPad.
Modartt has committed to release Pianoteq for the iPad in 2023, and if they deliver on this and the price is right, I may just purchase it and begin to use it over Neo-Soul Keys Studio 2 with my Studiologic Numa X Piano GT. Nothing quite matches the tone of the real thing, but these are great options that cost a lot less if you don't already own the real deal, or feel like lugging it into another room in your house where you may want to practice Billy Joel's Just the Way You Are.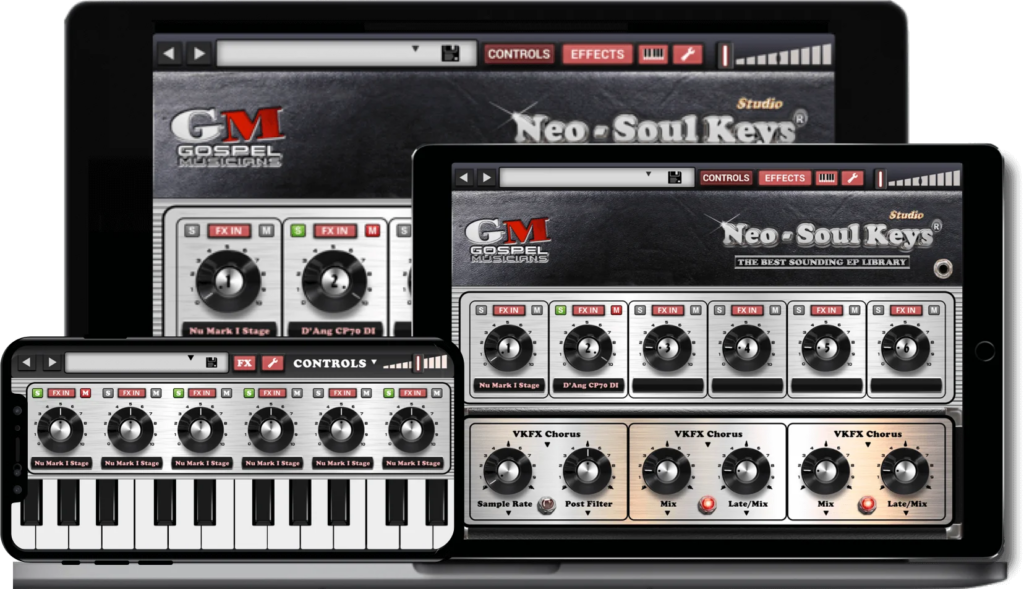 I've been using this for many years. Unlike Pianoteq, this uses samples (recordings of actual instruments). This means that the install size is a lot larger than Pianoteq. It also means less customization, as we aren't offered control over how the source sound is generated, just post-processing effects further along the virtual signal chain. It's still the best game in town for electric piano on iPad, and I use it during every practice session.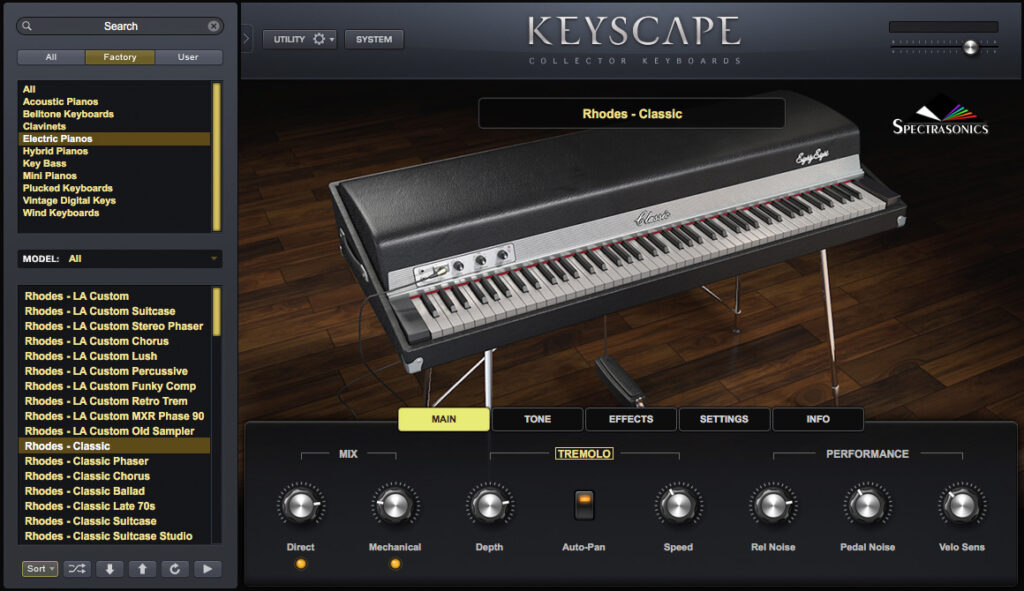 This used to be my favorite software, so much so that I paid $399 for a license around 2020. It still sounds good, but it doesn't run on iPad, like Neo-Soul Keys Studio 2 it is a sample library (77GB full install/30GB lite) and to my (discerning) ears, the sampling tech offered in Modartt's Pianoteq 8 has finally superceded sampling, unfortunately knocking Keyscape down a peg (for now). It's still very good sampling software, and Spectrasonics always releases quality products, so it will be interesting to see how they respond to the competitive threat of increasingly realistic modeling software in the coming years.
Other Options
For a long time the only way to get a Rhodes sound was to buy vintage or use software, but that changed in 2021 when the rights to the brand were purchased and a new company called Rhodes Music Ltd. was launched. They almost immediately put the Rhodes Mk. 8 into production. That's seven generations newer than my original Mk. 1! There's a catch though: The new Mk. 8 is pretty expensive, starting at $9,450 (two to three times what you might pay for a vintage instrument), and there is a lead time for orders as each is a custom build.
Rhodes Music Ltd. also offers a software option called Rhodes V8. I think for what it does you may still get better value out of the offerings I shared, but it might be something you consider if you prefer using virtual instruments for the convenience they offer.
No matter your favorite genre, if you're practicing the piano, the Rhodes is an instrument with a deserving tone.