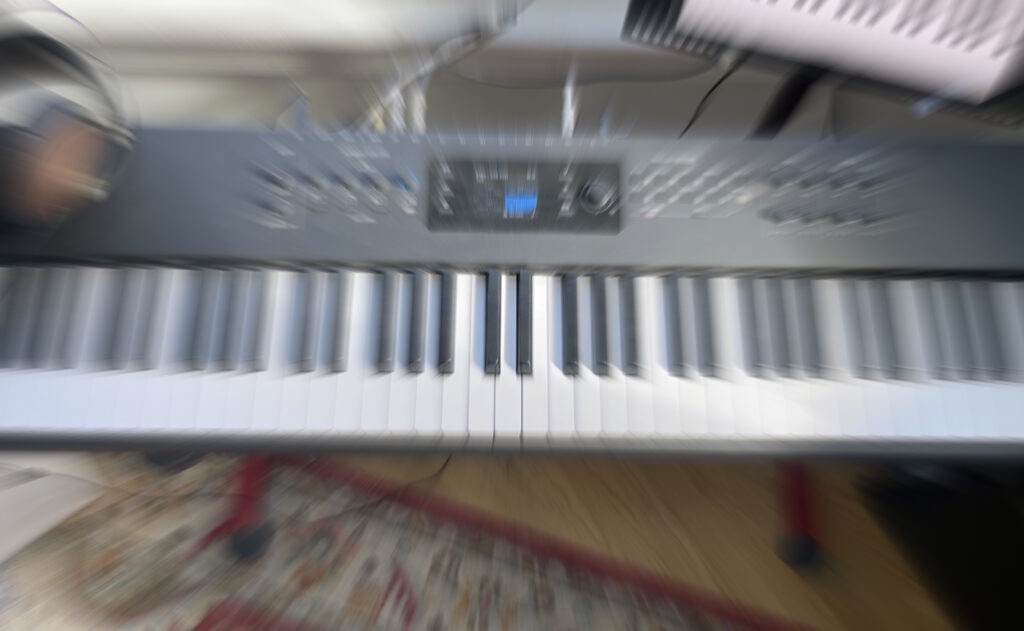 This story starts in an unexpected place: In mid-February, Clavia Digital Music Instruments of Stockholm, Sweden teased the imminent release of the Nord Stage 4, the long-awaited update to their flagship stage piano, the Nord Stage 3. The Nord Stage 3 had been my main digital keyboard for many years, and for a while I was under something of a spell, believing the only real competition to it would be the eventual Nord Stage 4. When I learned it was real, I hurriedly sold my Nord Stage 3.
Cracks Begin to Form in the Plan
When Clavia formally announced the Nord Stage 4 on February 16, 2023, I learned that the main new features were increased onboard sample storage, physical drawbars for organ players, additional sound layering features, and an expanded effects section. For someone who primarily plays classical/jazz with grand or electric piano sounds, none of these features were particularly exciting to me. What I was hoping for was larger storage that allowed for larger, higher quality piano libraries which would be released alongside the instrument. Also, a lot of new high-end digital keyboard manufacturers have begun including built-in class compliant audio interfaces, meaning computers/tablets/phones can actually recognize the keyboard as a sound card and bidirectional audio can route over USB, allowing for seamless usage of external virtual instruments with audio coming through speakers/headphones that are plugged directly into the instrument.
A built-in audio interface is a nice touch that can reduce complexity and ease a practice setup. It also eliminates the dependency on onboard sounds provided by the manufacturer, and gives players the freedom to experiment with incredible virtual instruments provided by software like Keyscape, Neo Soul Keys Studio 2, or Ravenscroft 275 (I really want to use Pianoteq 8 but I cannot yet stomach the price, and I hear a new version is getting released soon for iPad, which I'd prefer).
The Nord Stage 4 lacks this functionality, and to add insult to injury, it costs $5,699.
I quickly learned that I was not alone in my disappointment. Numerous forums began to fill with grumpy posts balking at the fact that Clavia would update their flagship instrument with arguably few major features and charge almost $6,000 for it. As is always the case on the Internet, people disagreed and argued, but I had already made up my mind. I would be putting my money toward something more cost-efficient and robust. Clavia had rested on their laurels and lost my business.
Who is Clavia's Target Market?
Having been immersed in the Nord ecosystem for about 5 years, I am pretty confident in my assertion that the Nord Stage 3 is geared toward less-technical pianists who play live and don't use VSTs. This is an aging market. It's so easy to use virtual instruments via an iPad now that on-board sounds aren't really a deciding factor in choosing an instrument. Now, the determining factors most pianists purchase for are all centered around quality of construction and playability.
Most of the advocates on the forums said similar, along the lines of "If you don't like the Nord Stage 4, it's probably because it wasn't made for you."
That's fair a fair point, but it begs the question: "Why would Clavia make an instrument for what is almost certainly a shrinking demographic?"
The Hunt for Something Better
I must get something out of the way first: I'm really not that picky (honestly!). I wanted an 88-key digital piano that would be an evolution on the Stage 3 and last at least five years . It had to be fun to play, with a quality keybed, MIDI functionality, and some passable onboard sounds for when I don't feel like loading up external virtual instrument software. I immediately started investigating my options, narrowing my search down to a few different interesting models:
Nord Stage 4 88
Roland RD-2000:

Pros:

1,100+ onboard sounds
Roland's PHA-50 keybed
On-board audio interface with support for bidirectional audio and MIDI over USB
Relatively lightweight (47.9lbs)

Cons:

Keybed not as nice as some competitor's options
Sound engine produces piano tones that cut through a mix, but aren't exactly realistic sounding
Released in early 2017, risking imminent replacement by Roland.

Kawai MP11SE:

Pros:

Keybed with grand piano action thanks to the Kawai keybed
Solid onboard grand and electric piano sounds

Cons:

Weight (74lbs)
Some users have reported that they've had issues with their keybed requiring extensive repair work
No on-board audio interface
Somewhat expensive at $3,500 new ($2,700 new from a dealer I work with)
Released in late 2017, risking imminent replacement by Kawai.

StudioLogic Numa X Piano GT

Pros:

Studiologic's flagship, which typically equates to long-term support
Great keybed for the price (TP/400 Wood)
On-board audio interface with support for bidirectional audio and MIDI over USB.
Relatively lightweight (48.5lbs).
$2,000 new (I paid $1,200 used)
Studiologic took a note from Nord and regularly releases new sounds for upload to their instruments.
Released in late 2021, minimizing risk of imminent replacement by Studiologic.

Cons

Built-in sounds are as artificial sounding as the Roland RD-88.
Minimal UI takes some getting used to, contrary to the marketing materials.
Single volume knob controls both headphones and external speakers simultaneously, with no apparent ability to independently control output volume.
Enter the Studiologic Numa X Piano GT
I could have never predicted that I would have gone from a keyboard as prolific as the Nord Stage 3 to the less well-known Studiologic offering, but I am extremely satisfied with the outcome. I ended up purchasing my Studiologic Numa X GT used for only $1,250, including the Studiologic SLP3-D Triple Pedal. The Numa X Piano GT's interface is significantly sparser than the Nord Stage 3, but it does exactly what I need. Also, gone are the days of playing plastic Nord keys. Studiologic's Grand Touch keybed feels phenomenal in comparison. The onboard USB audio interface integrates seamlessly with my iPad Pro, where I regularly use Ravenscroft 275 for acoustic piano tones and Neo Soul Keys Studio 2 for Rhodes/Wurlitzer electric piano tones. I can practice using apps like Musescore or Piano Marvel with ease.
The Studiologic Numa X Piano GT rivals more expensive keyboards from more well-established competitors, and is worth a look from anyone in the market for a great playing digital keyboard.
Note: I have not been paid or asked for my thoughts on any of the mentioned products by their manufacturers, and all opinions are my own. That said, if Modartt wants to give me a complimentary Pianoteq 8 license, I would be ecstatic, but review it without bias.